Before & After Interior Design Pictures
I love to show these before & after pictures in order for you to see how much a room can change. You may be wondering how to we get to the After? It is a process that we go through together; it takes communication, design, and planning.
Construction Support is the key to making these transformations happen. Knowing when materials are needed on the site, coordinating the tradespeople, and implementing the design is all part of construction support.
I go the extra mile to make sure your project runs smoothly and on schedule. The Kitchen in Room 1 was installed in this Berkley Heights New Jersey home when the client was out of power due to Hurricane Sandy. We brought our own generator on site to make sure the installation happened on time.
The Denville New Jersey Kitchen in Room 4 was completed in 5 weeks as per the client's needs. I had everyone scheduled way ahead of time to insure that we adhered to the clients' time frame.
*Drag the red button from left to right to reveal the before and after picture.
Room 1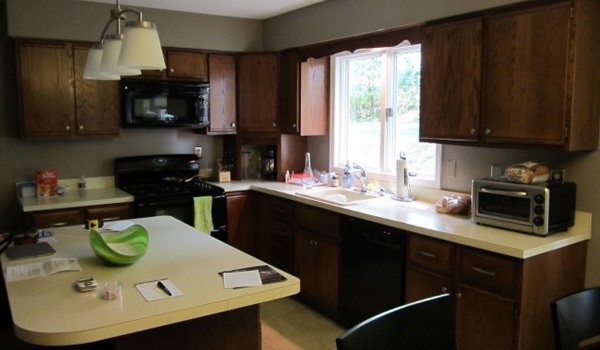 Room 2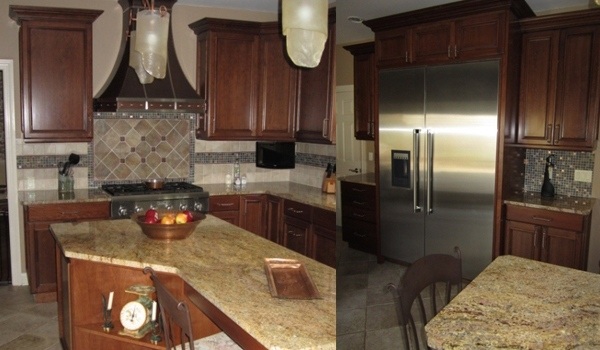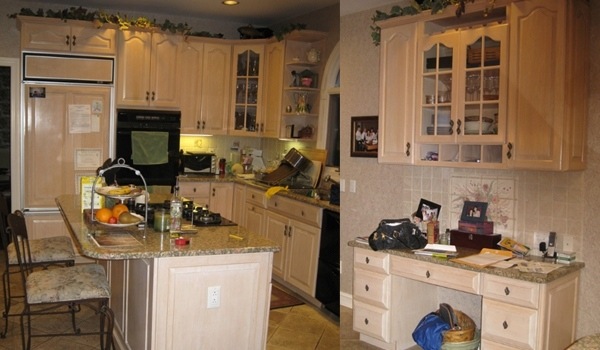 Room 3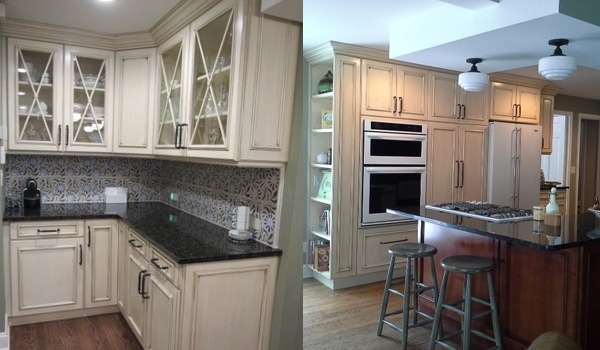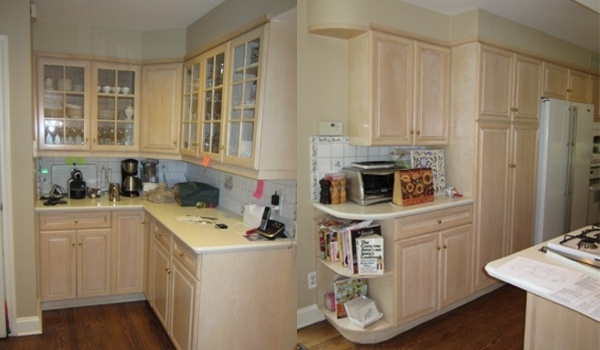 Room 4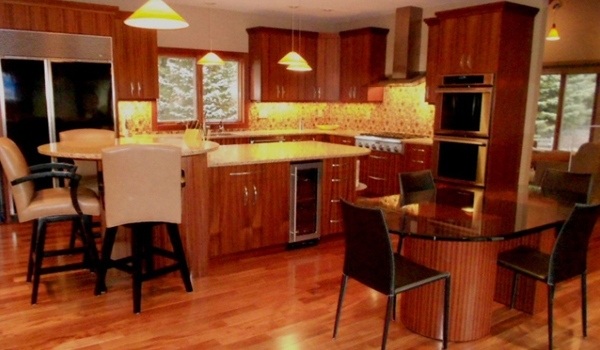 Room 5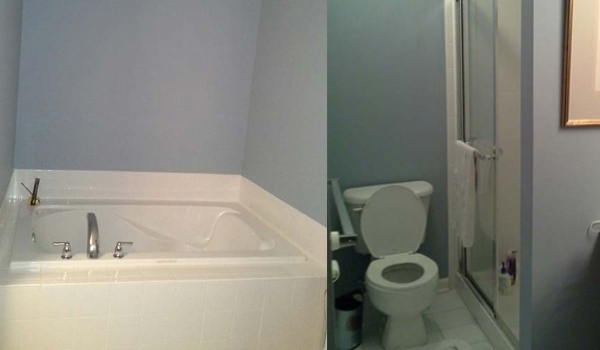 Room 6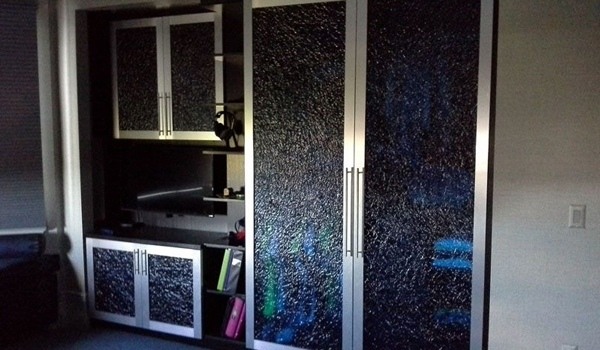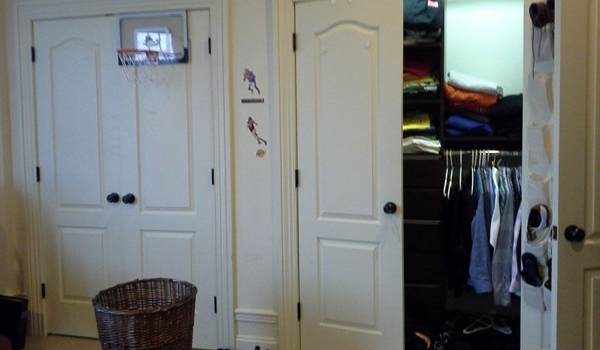 Room 7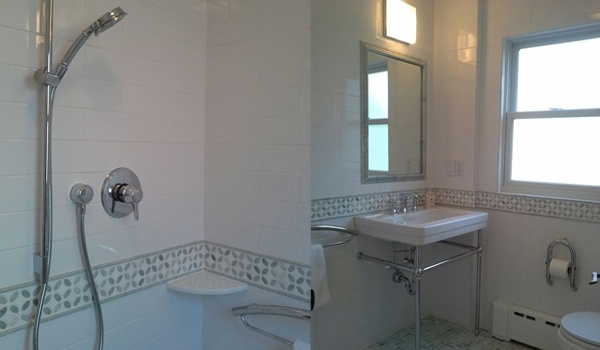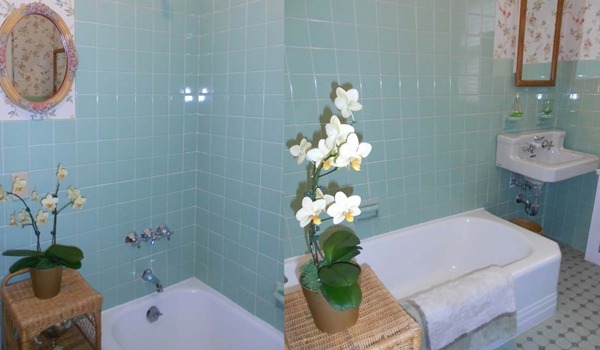 Room 8: Bathroom Remodel

[Not So] Pretty in Pink
We thoroughly enjoyed working on this project and thought it would be great to share it with you.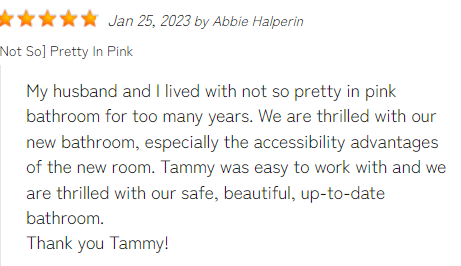 Before
From outdated pink tiles and leopard print wall coverings….
Pink, Blue, Yellow…
Do the light pink tiles of the before image above look familiar to you? There isn't a home in this region that doesn't feature a bathroom with one of these disconcerting colors. Yet so many homeowners tend to settle and simply live with it. Why is that?
For many, life gets busy. Since the bathroom is still functional, they are able to look past the eye sore.
It's not until I come in and start my evaluation that homeowners realize their bathroom may not actually be functioning as optimally as it could.
While this renovation's striking difference in color palette may be what initially catches your eye, there was actually much more that went into making this a more appealing and functional space…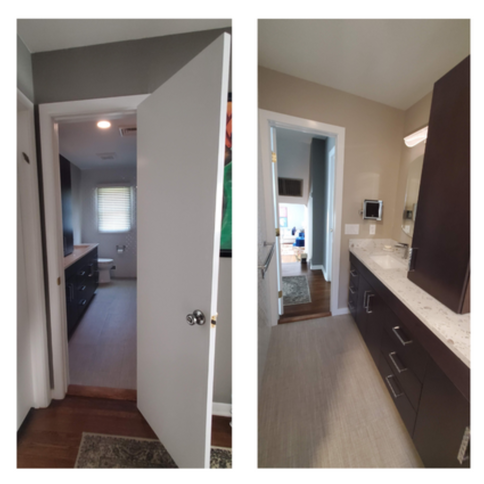 Maximizing space from the doorway
While the amount of square footage remained the same, simply changing the direction of the door swing achieved a more open feel and optimized the amount of usable space within this modestly-sized bathroom.
Double vanity & added storage
With a small footprint to work with, we needed to be creative when adding storage space. In addition to upgrading the homeowners to his-and-hers sinks, we built a storage cabinet directly onto the countertop, ensuring valuable floor space was not compromised.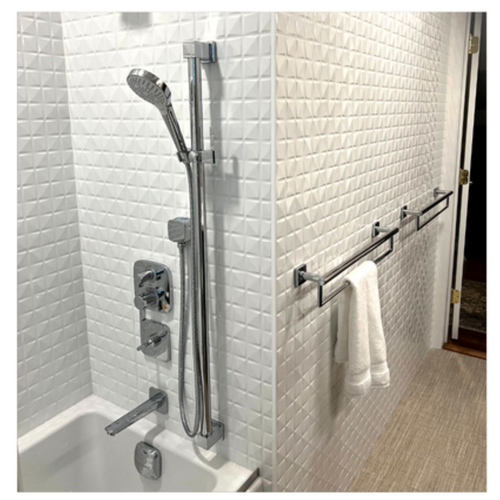 Subtle design & multi-functionality
In this particular renovation, the towel bars double as grab bars, and if you look closely, you'll notice the subtle incorporation of grab bars along the length of the handheld showerhead, as well. This is a great example of marrying unexpected functionality and quality design.
Oftentimes, the smallest of spaces (such as this one) present the greatest of challenges. With limited square footage to work with, it takes the keen eye of a design expert to not only determine the best use of the space, but to choose colors and materials that truly elevated the room.