We are "Best Bathroom Design" winners!
We are proud to announce that we won "Best Bathroom Design" from the Metro BCA chapter of the National Association of Home Builders!
You can read all about our award on Cranford Patch and A Greater Town!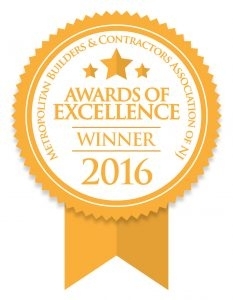 Our award-winning bathroom was designed for a Garwood resident who has multiple sclerosis (MS). As part of our process, we examined our client's use of space and how he functioned within that space. Doing so made sure that we could put every nook and cranny of the bathroom to work for his safety and independence.
To achieve this, we removed a big, impractical tub and replaced it with a luxurious walk-in shower. Not only does the final result look beautiful, but it is completely accessible for our client. He told us soon after that he took his first "drama-free" shower in years because of our walk-in shower recommendation.
As aging in place specialists, we work to improve daily life for those with limited mobility. Our Certified Aging-In-Place Specialist certification enables us to use our talents as an interior designer and a physical therapist to benefit anyone in any stage of life as their circumstances change. Whether the person is someone with a progressive illness like our client in Garwood, a veteran with an injury, or someone who is simply getting older and is thinking about the future, our work prolongs the time someone can spend in their home with dignity and independence.
We at AIP Designs are extremely proud of this recognition, and we are looking forward to making daily life accessible for even more people across New Jersey. Reach out today to learn more about how we can help you!